Noel always manages to fill her kits with the most amazing stuff, and one if the best parts of the kit is the specialty paper she includes. Sometimes it's sheet music, sometimes it's score cards, and sometimes it's yummy coredinations paper, like this one from Jenni Bowlin that I used in my challenge layout.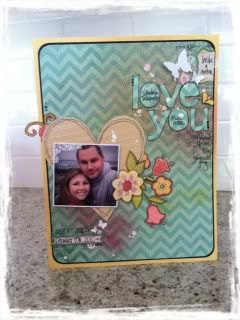 I loove how the paper takes on a totally new life when you sand it. I took it a little farther by sloppy sewing the edges, too.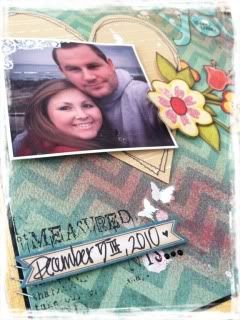 I've been doing a lot of mixed-media work lately, so I decided to try out a couple of techniques on this layout, like applying rub-ons over the photo, then coating the whole thing with mod podge. I also used some black pearl pen from Viva Decor to make those little shiny black 3-D dots. And how much do we looooooove those little label stickers by MME and Crate Paper?! So much!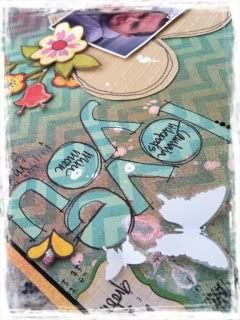 I masked the title with chipboard alphas and sprayed over them, then sloppy outlined them with by black Signo pen and added some Hambly butterflies from an overlay that I cut up and a few staples using Tim Holtz's Tiny Attacher. Those white blotches you see are made using white ink from Liquitex - live that stuff!!!

All in all, I love my layout! It feels like it's been forever since I scrapped one of my and the hubbs, and I love that I was able to mix on a few techniques I've been using lately.

Hope everyone has a great weekend!
XOXO
Britt