Hi guys!!
Can you believe that we are just a few days away from Christmas?!?
I can't believe it.
AT.ALL.
I'm so not prepared but I keep having to remind myself that what get's done, get's done...lol.
I'm still chuckling over today's layout. The story behind it will forever be a favorite memory of mine from our Disney trip and I look forward to us laughing about it every Christmas from here on out.
And to be able to document this story like this is exactly why I scrapbook :)
I used the
Glad Tidings Kit
and especially used a lot of the embellishments that came in the kit. For this layout, I really wanted the journaling to be the focus of the layout itself and even used the pictures almost as embellishments as well.
Here's the layout: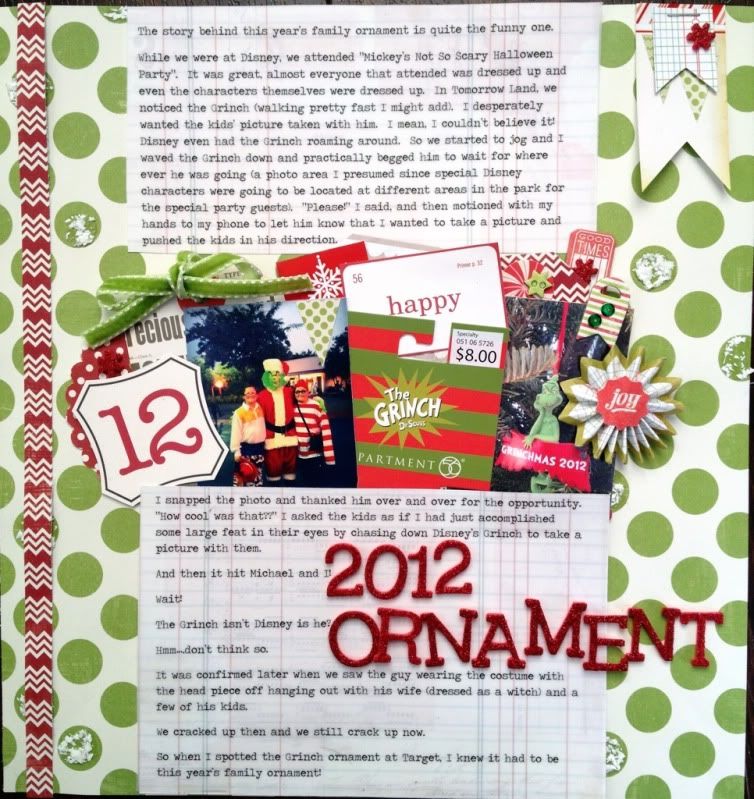 And here's the story:
The story behind this year's family ornament is quite the funny one.
While we were at Disney, we attended "Mickey's Not So Scary Halloween Party". It was great, almost everyone that attended was dressed up and even the characters themselves were dressed up. In Tomorrow Land, we noticed the Grinch (walking pretty fast I might add). I desperately wanted the kids' picture taken with him. I mean, I couldn't believe it! Disney even had the Grinch roaming around. So we started to jog and I waved the Grinch down and practically begged him to wait for where ever he was going (a photo area I presumed since special Disney characters were going to be located at different areas in the park for the special party guests). "Please!" I said, and then motioned with my hands to my phone to let him know that I wanted to take a picture and pushed the kids in his direction.
I snapped the photo and thanked him over and over for the opportunity. "How cool was that??" I asked the kids as if I had just accomplished some large feat in their eyes by chasing down Disney's Grinch to take a picture with them.
And then it hit Michael and I!
The Grinch isn't Disney is he?
It was confirmed later when we saw the guy wearing the costume with the head piece off hanging out with his wife (dressed as a witch) and a few of his kids.
We cracked up then and we still crack up now.
So when I spotted the Grinch ornament at Target, I knew it had to be this year's family ornament!
That's the day that the Grinch became more than just a character out of a book :)
I hope y'all have a fabulous holiday next week!!!