Hi Everyone!! Well I had really wanted to share my Halloween decorations with you today-but I am still not done with them! :P I have several of the projects started, but they are just taking time to finish. Time that has been hard to come by lately. So, sadly they will have to wait to be shown here on the blog until after Halloween (as I post every Wednesday). But I will be sure to have them up in the Message Board as soon as they are done and photographed. :D
So for today, I am instead going to show you the project I did for the
Shades of the Same challenge
! It took me a little while to figure out what color I wanted to go with (and trust me-that was a really hard decision!!), but a creamy white was the one I kept coming back to, so I decided to stick with it. And I am really happy I did! I really want to do more projects like this! (But I am thinking I will need to buy more Printer's Trays! LOL!) Anyway, all the elements I chose are on the spectrum of a creamy white (with a few stark whites in there too. I couldn't help myself!). The only things with any color are the 'pictures' I decided to use on my ATCs. These are actually vintage images that I printed out (I can locate them if you would like to have them too). This is the project in full. It is missing three ATCs, because I just kinda ran out of mojo working with the same color (this was a fun challenge, but a challenge no doubt!), so I still have all my supplies out waiting for the inspiration to make the last three.
These are close up images of all the ATCs. If you have any questions about them, please don't hesitate to ask as I would love to answer any! :D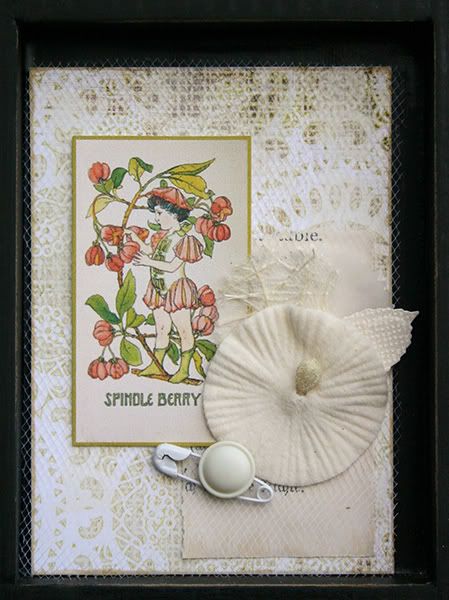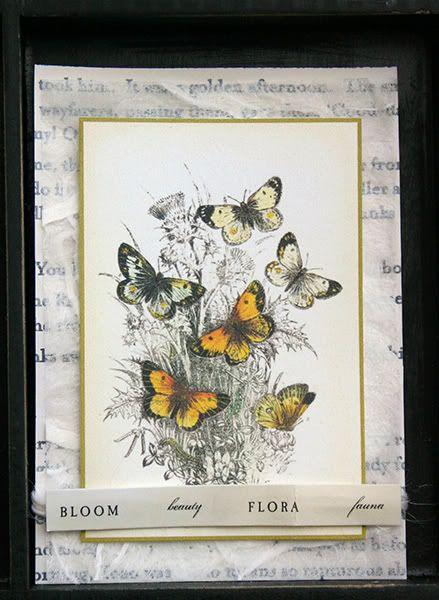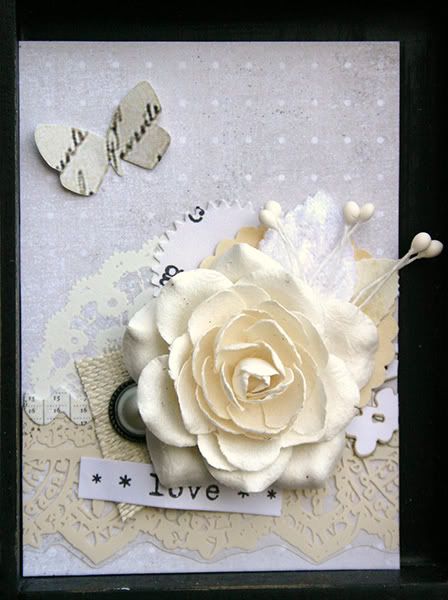 I used a very wide mix of things from my stash. a lot of it is scrapbooking supplies that you can clearly recognize, but a good bit of it also came from just things I had here at home. Fabric swatches, my daughter's glitter glue, extra string/button packs that come with your sweaters when you buy them, tulle and lots of vintage paper that I literally just tore out of books on my shelves. :D I had a grand ol' time searching my house for lots of things that were the color I needed!
The great thing about ATCs is that you can easily turn them into a banner!!! I am really thinking that is what I am going to do with these, as I only have two Printer's trays, and I really want to be able to rotate new ATCs in them. Attaching all of these by the back to a ribbon and stringing them up on a wall I think would be so fun and easy! I will probably put this one in Cree's room (I am working on figuring her room out decoration-wise), but most certainly in a place where she can't get to it. :D I want to share this project with her, just not in tons of little pieces all over the floor!! LOL!
Well that about sums this project up. Be sure to check out
the challenge
, and all the amazing projects the other girls on the DT came up with-as they are all super stunning!!!
And also be sure to
pick up your Dear Diary November kit
before it sells out! :D It is featuring manufacturers like Lily Bee, Crate Paper (Restoration collection!), October Afternoon, Sassafras Lass, Maya Road, We Are Memory Keepers and much more! It is so gorgeous, and I am anxiously awaiting mine! Noel really out-did herself with this one, so make sure you don't miss it!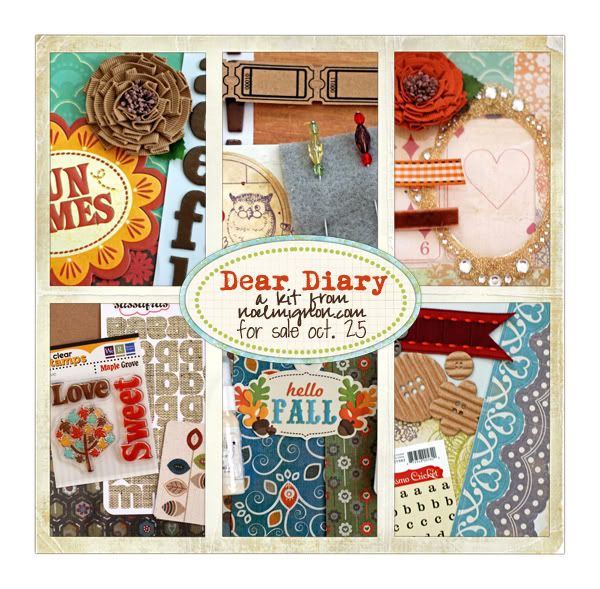 Take care everyone!! And have a safe and fun Halloween! :D