It's the time of the week where I'm so excited because tomorrow is Friday which means the weekend is right behind it and there's the promise of finding some time to create.
I absolutely love it!!!
Today's post is all about the fabulous
Willow Creek Kit
which I know I've mentioned it before but I just can't say enough how much I love this kit.
I decided to do a layout on a subject that is still very much a shock to me....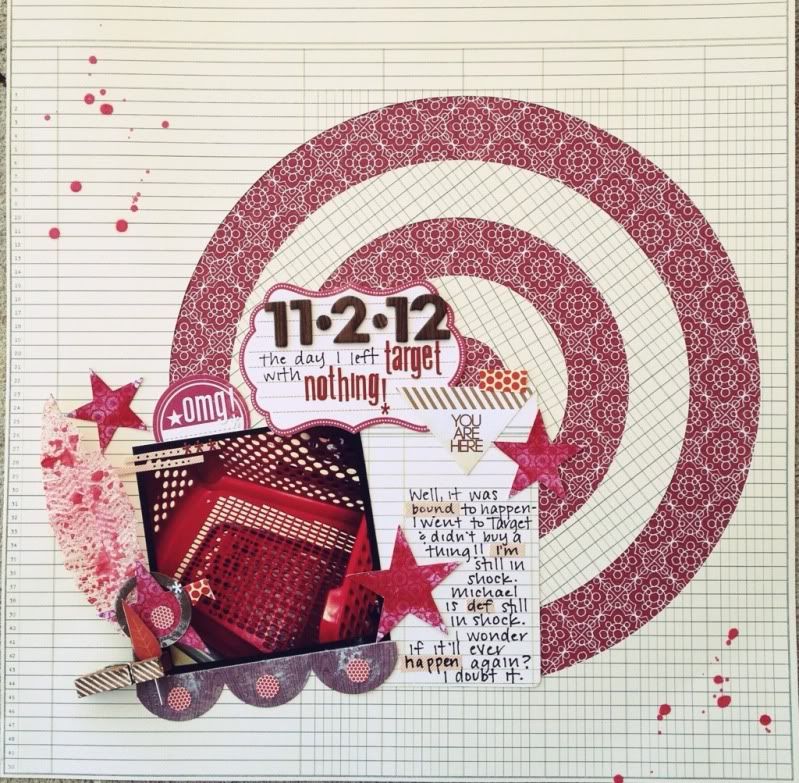 ...the day I went to Target and didn't buy a single thing!
If you knew me in real life you would know that I have been known to "need" to go Target at times a few times a week. This is beyond ridiculous I know, but I absolutely love the place.
On this particular day, I just must not have been feeling it because I left with nothing.
This needed to be documented stat!
LOL
For this lo, like I mentioned, I used the fabulous Willow Creek. I cut the famous bullseye shape out of a piece of patterned paper from the kit and backed it with a piece that had a lot of red in it.
I sprayed the feather with
Heidi Swapp Color Shine in Sweet Cherry
to add more red to the lo. I inked some cut out stars and added a few of the red stickers to the title to complete the red/cream/white/black theme to go with the colors for Target.
Now I'm left to wonder if leaving Target with nothing will ever happen again :)
xo