Hi Everyone!! Today I am going to share with you a quick Title Tip! Titles are always hard for me. I don't think I have had a single LO where the title was the easiest thing on it. :P And it almost always comes after the LO is done. (I am a little title challenged! LOL!)

Now I am going to confess something, the Delovely collection is just a wee bit brighter than I am comfortable with using. Everyone has their comfort zone, and mine just doesn't happen to include brighter colors. LOL! :D So instead of diving head first into the collection and using them all in massive amounts, I decided to balance with a lot of white cardstock! :D That toned it down a lot for me.
You are probably wondering now how this relates to my title. Well like I said before, with majority of my LOs the title comes last. And in order to keep the balance of the colors and the white, I decided to use all white letters for my title! :D And on this particular LO, that actually meant doing a tone-on-tone technique. Meaning I used the same color letters as the background they sit on. But at the same time I didn't want the letters to just blend away into the background so I did a few things to try and make the title stand out a bit more. First thing I did was I used two different letter types-one of them a glitter to add more texture, and the other a chipboard to add more depth! The chipboard especially adds a lot of pop with the tone-on-tone and really draws your eyes to it! And the last thing I did to help the title stand out a little more was to make a paper embellishment to go under part of my title that happened to play into the words of the title. :D I used punches and decorative scissors to create a scallop circle that had a whole bunch of punched hearts in the middle, and put the last half of my word 'sweetheart' on top of the paper embellishment! :D
Well I hope this inspired you some today!!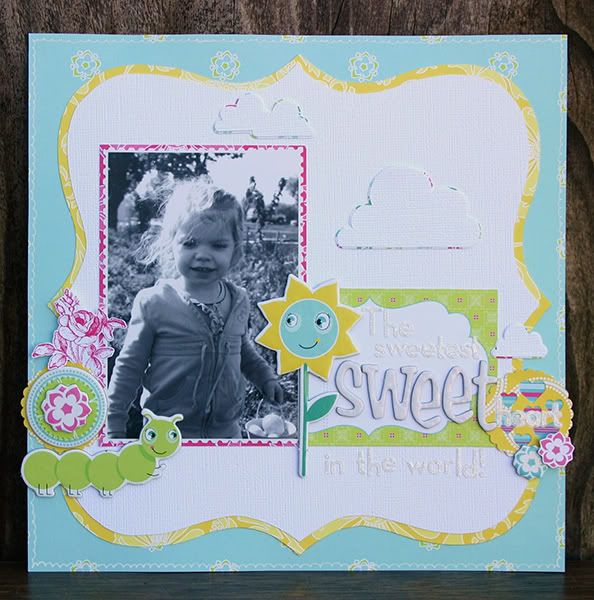 Have a great Sunday everyone!!