Morning everyone!!! You are all probably wondering why my post title is Halloween themed-well, that is because I have a LO that I made with Sleepy Hollow that I totally did not share!! :P I'm a dork, I know. :D
I made the LO with Noel's Sleepy Hollow kit (sorry sold out! :D), and this was my first Halloween themed kit ever. I had an absolute blast working with the kit, and ended up creating my very first Halloween LO. We had never celebrated Halloween before this year, so this was the first time that I had pics of Creedence in costume and Trick or Treating! Needless to say, this is a holiday that she will never let us get away with not celebrating again! LOL! She had an amazing time and ended up wearing her costume for about a week after. (Yes that means that I totally let her. How could I not?! She looked so stinkin cute in it!)
The only thing that I had not done when I photographed the LO was that journaling. (I actually still need to do it! :P) It is a bit different from my normal style of 'just anything goes', but I was really happy with how it turned out! I also did something I hadn't done in a long time and decided to do inked edges-which I have done on almost every LO since this one! So without further ado-I give you my very first Halloween page! :D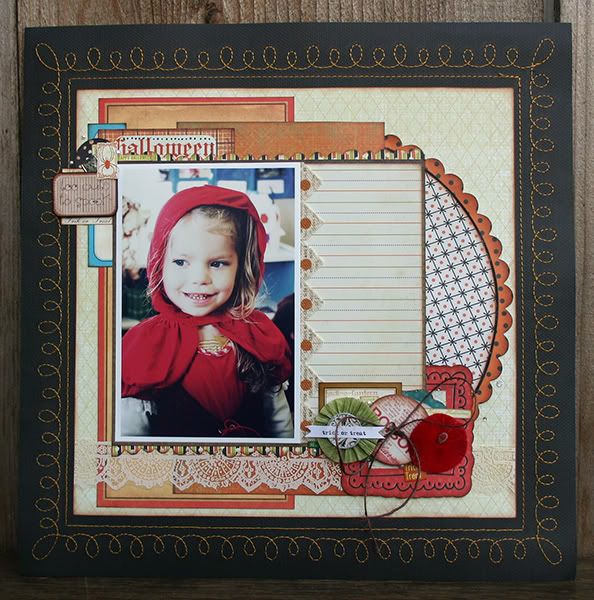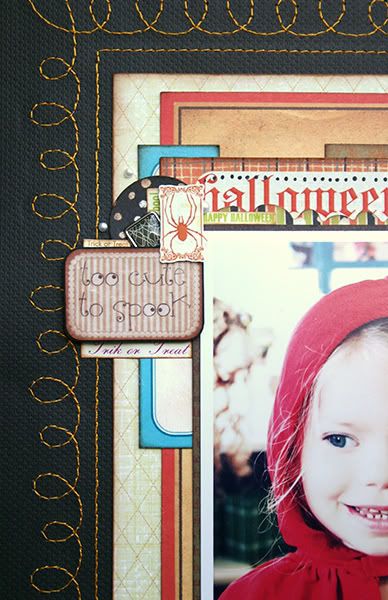 I know I have plenty more Halloween LOs to scrap with my Sleepy Hollow kit, because this photo above was most certainly not the only picture I took!! :D But Noel's kits are so jam packed that I will without a doubt be able to get a LO for ever picture I took out of my kit! She is just amazing in how much she gets in those kits!
And if you haven't checked it out already, be sure to take a look at the Christmas themed kit Noel made for December!!
Bedford Falls
is the most gorgeous (and biggest!!) holiday kit I have ever seen!!!
There are still some left, but don't hesitate as December is coming upon us really REALLY fast!!
I wish everyone a wonderful Thanksgiving this week-as I won't be back until next Wednesday!! Eat lots of turkey and rolls and cranberry sauce! :D Take care!
~Amy